'Social reformer', 'Modern Phule'; YSRCP BC leaders deluge Jagan with praise
The 'Jayaho BC Mahasabha,' organised on a grand-scale by the YSRCP, saw a host of leaders deluging their Chief Minister YS Jagan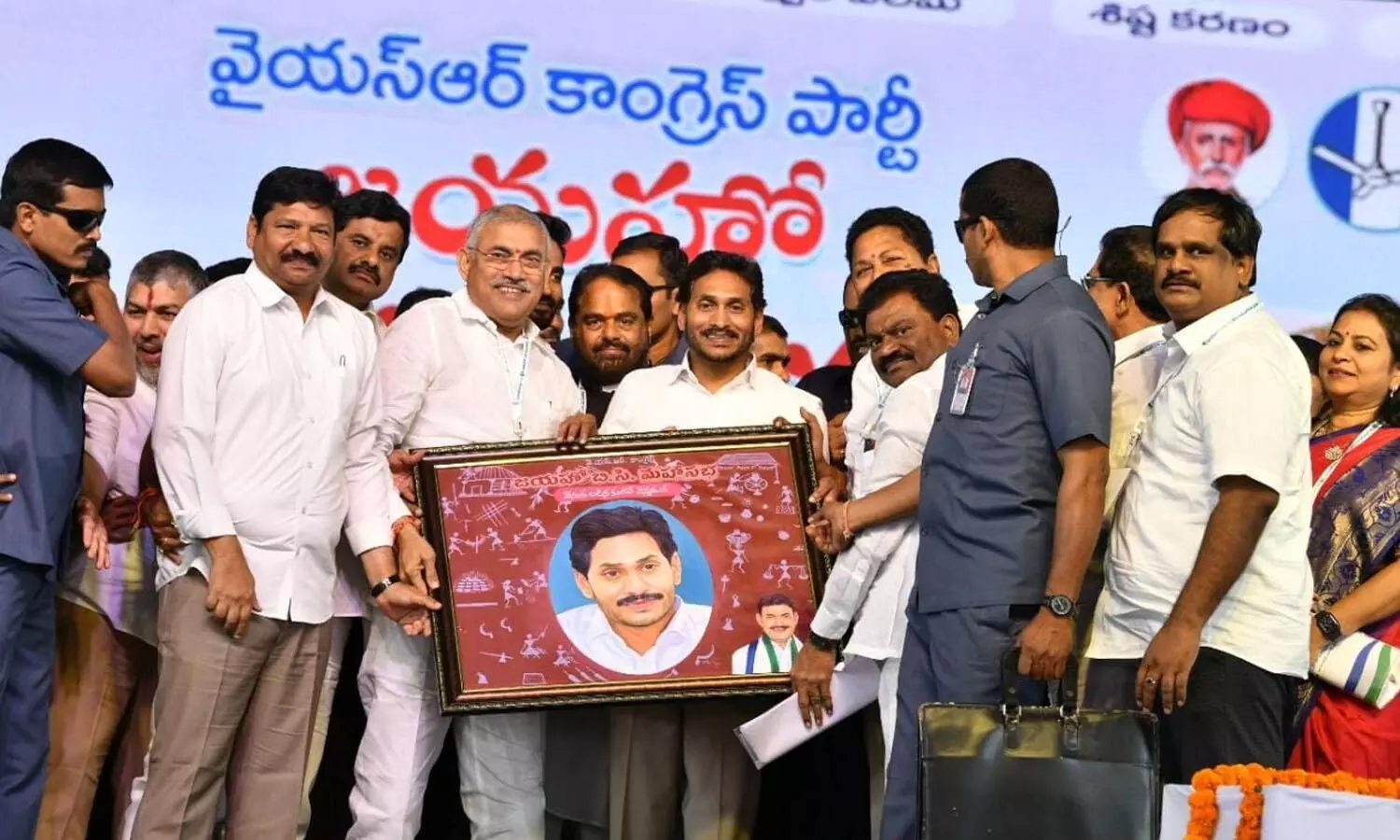 VIJAYAWADA: The 'Jayaho BC Maha Sabha', organised on a grand-scale by the YSRCP here on Wednesday, saw a host of leaders deluging their president and Chief Minister YS Jaganmohan Reddy with unprecedented encomiums. In stark contrast, Telugu Desam Party (TDP) chief Chandrababu Naidu ended up their favourite punching bag as leader after leader riddled him with jibes and sought to expose the latter's inaction in BC welfare in the state.
YSRCP's newest Rajya Sabha Member and influential leader of Backward Classes R Krishnaiah led the torrent of high praise for YS Jagan even as he reeled out statistics on how BCs were well-rewarded by the YSRCP government.
In his inimitable style, R Krishnaiah profusely thanked YS Jagan for the priority accorded to the BCs, be it 11 berths in the state cabinet or the 70 percent of seats allotted to them, right from Rajya Sabha, Lok Sabha memberships to the representation of MLAs, MLCs and even sarpanches at the grass-roots level.
Enthused by a cheering crowd, Krishnaiah went a step further and described YS Jagan as a 'social reformer' rather than a mere politician. He gave a clarion call to the people of the Backward Classes in Andhra Pradesh to support and strengthen the hands of YS Jagan and enable him to take up more welfare schemes.
He said that YS Jagan held a unique distinction of tabling a bill in support of BC reservations in the State Assembly and claimed that this is the first of its kind in the country. Calling the Chief Minister a gutsy leader, he said that YS Jagan intended to do what even the Parliament failed to do over the decades.
Similar sentiments were echoed by YSRCP MLC and noted BC leader Janga Krishna Murthy, Ministers Vidadala Rajani, Karumuri Nageswara Rao, Chelluboyina Gopala Krishna, Seediri Appala Raju, former Minister Anil Kumar Yadav and others.
The likes of Vidadala Rajani and Karumuri Nageswara Rao described YS Jagan as 'modern Jyothirao Phule' (Abhinava Phule) for his remarkable decision to ensure representation to over 80,000 people from the Backward Classes.
Almost all the speakers at the meeting were conspicuous in their all-out attack on TDP chief Chandrababu Naidu for his latest tweet that BCs were indeed with his party. They claimed that the TDP chief was voted out of power due to his gross neglect and brazen ill-treatment of people from various weaker sections. They recalled how Naidu threatened and bullied representatives of fishermen and nayee-brahman communities when they attempted to represent their problems to him in the past.
First Published: &nbsp 7 Dec 2022 10:16 AM GMT