Rahul Gandhi, as PM, will first sign on AP spl status file: Jairam Ramesh
AICC General Secretary Jairam Ramesh announced that Rahul Gandhi would accord special status to Andhra Pradesh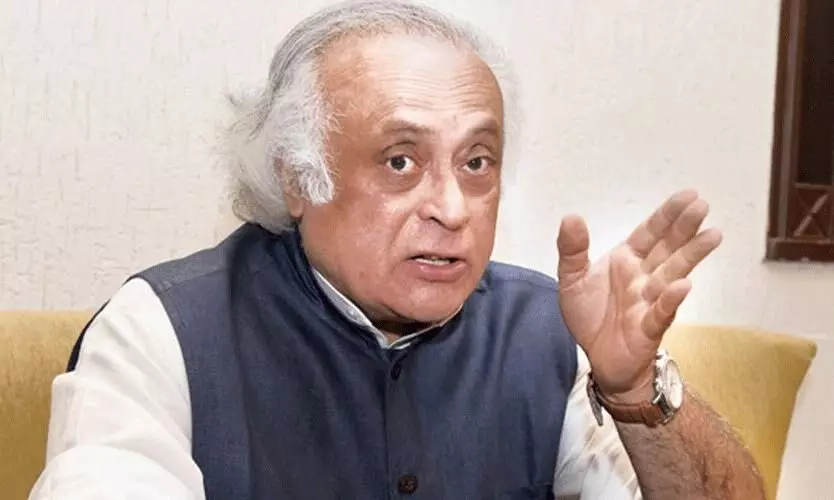 Jairam Ramesh
KURNOOL: All India Congress Committee (AICC) General Secretary and incharge of communications Jairam Ramesh on Tuesday announced that Rahul Gandhi would accord special status to Andhra Pradesh if he became the prime minister.
Speaking to the media here, the Congress veteran said that special status to AP would be the file that Rahul Gandhi would sign on after becoming the prime minister of the country. Jairam Ramesh, who is a key member of Rahul Gandhi's team overseeing his Bharat Jodo Yatra, is here as part of a preparatory visit. The idea of his visit is to oversee the preparations locally besides activating the party chain to participate in Rahul Gandhi's Bharat Jodo Yatra, when it enters this part of the state.
In an apparent bid to enthuse the party cadres and also endear the general public who had gone away from its grasp since the bifurcation of the state, Jairam Ramesh made the special status issue the focal point of his chat with the media. It also gave a forecasting idea of what will dominate Rahul Gandhi's rhetoric when his yatra winds through Andhra Pradesh.
Keeping his interaction largely confined to the special status issue, Jairam Ramesh said that it was former prime minister Dr Manmohan Singh who had announced the special status for Andhra Pradesh. He quickly trained his guns on Bharatiya Janata Party's Venkaiah Naidu and castigated him for failing to achieve this crucial aspect of the bifurcation act since the time the NDA regime came to power at the Centre.
"Venkaiah Naidu was not happy with the idea of a special status for five years. He grandly announced that AP would be granted special status for 10 years if BJP came to power. The BJP-led NDA came to power in 2014. Venkaiah Naidu became the Vice-President but why did he fail to get the special status accorded to Andhra Pradesh?," he questioned.
The Rajya Sabha Member of the Congress appealed to the general public to make the Bharat Jodo Yatra a big success. He felt that it was the need of the hour as the country needed to be safeguarded.
First Published: &nbsp 4 Oct 2022 7:59 AM GMT