YSRCP, TDP men lock horns during Chandrababu visit in Kuppam
The YCP Party called for a complete bandh in Kuppam in the wake of TDP Chief Chandrababu's visit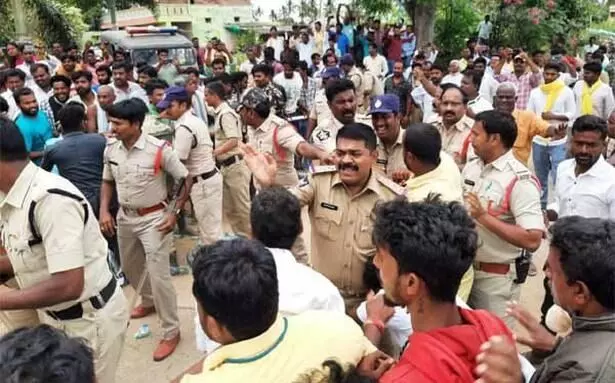 KUPPAM: Kuppam was in the grip of tension in the wake of TDP Chief Chandrababu's visit to the municipality on Thursday. The YCP Party called for a complete bandh in Kuppam Municipality. Schools, Colleges and shops were closed voluntarily. The movement of RTC buses was also halted. Police have also set up barricades at many places to prevent any untoward incidents. On the other hand, YCP Party activists destroyed the Anna canteen, set up during the earlier TDP regime, at the bus stand. "The attack on the Anna canteen is a heinous act," said TDP President Chandrababu Naidu, while condemning it. "They are conspiring to create a law-and-order problem in Kuppam," lamented Atchannaidu.
Alleging YSRCP violence during their chief's visit to Kuppam, TDP activists attempted to lay siege to the DGP office in Amaravati. Activists led by Nadendla Brahmam attempted to barge into the DGP office. After being stalled by the police, they staged a protest at the entrance under the leadership of TDP AP President Atchannaidu. The TDP AP unit chief himself walked barefoot to the DGP office to protest the unwanted commotion created by the YSRCP activists in Kuppam. Tenali Shravan Kumar and other TDP Leaders joined the protest and extended their support.

Back in Kuppam, the district SP is personally monitoring the situation arising out of the protests by both the YSRCP and the TDP. Police personnel were deployed in large numbers to pre-empt any possible trouble.

First Published: &nbsp 25 Aug 2022 9:54 AM GMT