'Chilkuri Burrakatha Brundham' performs Burrakatha on Christmas day
A Burrakatha performance based on the biblical tale of "Samson and Delilah" was presented by the three Chilkuri Brothers at an event on Christmas Day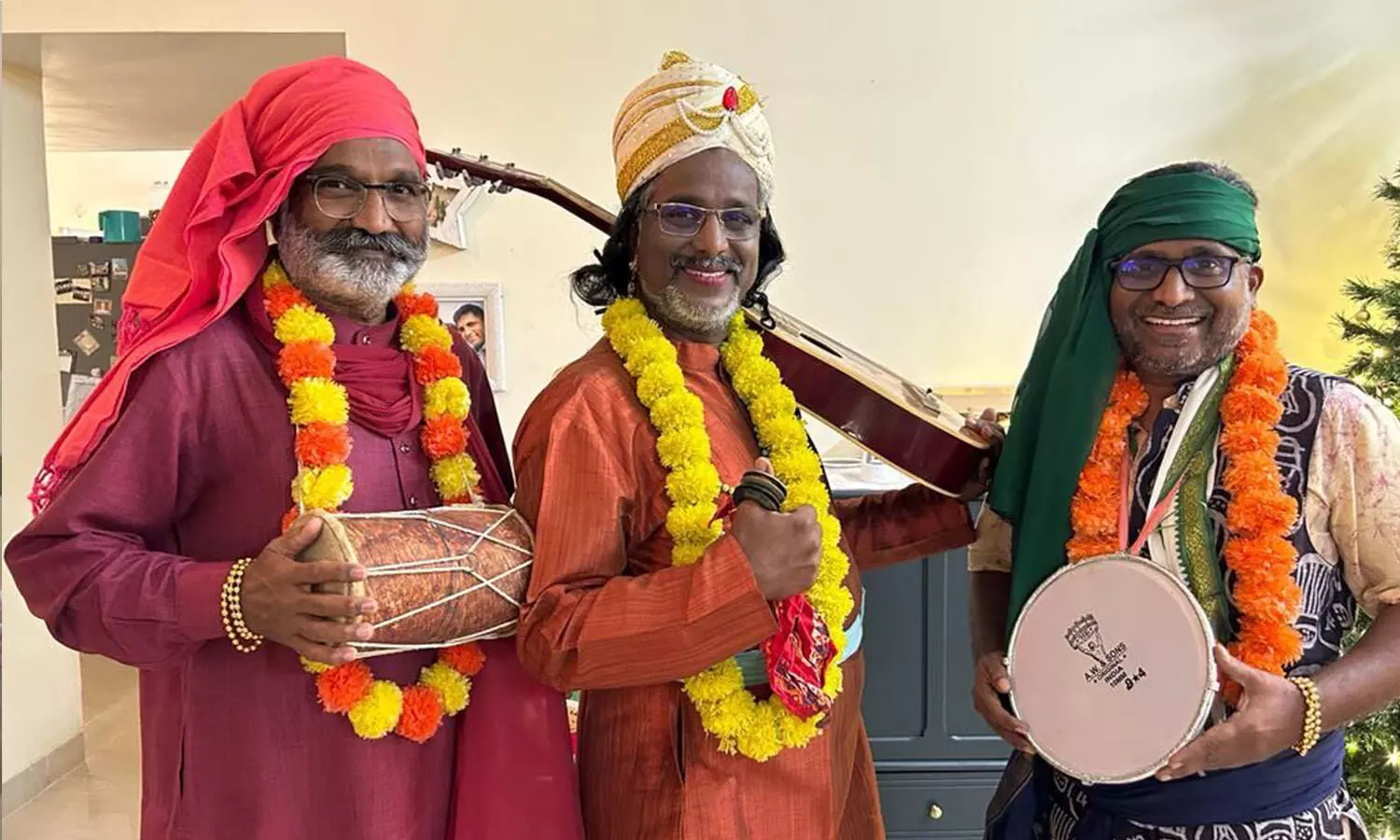 HYDERABAD: A Burrakatha performance based on the biblical tale of "Samson and Delilah" was presented by the three Chilkuri Brothers, who collectively make up the "Chilkuri Burrakatha Brundham," at an event on Christmas Day. The folk-art was performed in Kowkur, Bolaram in Hyderabad. The main performer was Chilkuri Vasanth Rao, who was joined on stage by his brothers Chilkuri Shyam Rao and Chilkuri Sushil Rao.
The folk artists' first performance took place in 1978. The brothers had staged the "Samson and Delilah" narrative in over 60 places including Hyderabad, Medak, Sangareddy, Nalgonda, Kamareddy, Yellareddyguda, Vizag, Vizianagaram, and Kakinada.
Chilkuri Vasanth Rao said, "Recalling the entire story was not so easy but as we got into the narration, the sequence fell in place. The well-known Surabhi Theatre Group, which used to provide the troupe clothing, supported the Chilkuri Burrakatha Brundham in their initial years.

The biblical tale of "Nehemiah" is one of the tales that were told through the folk art. The performances were typically presented during the "jatharas" that churches held on special occasions.
Chilkuri Vasanth Rao is the principal of United Theological College in Bengaluru and has a Ph.D. from Germany. Chilkuri Shyam Rao, his older brother, is a well-known lawyer in Hyderabad, and Chilkuri Sushil Rao, his younger brother is a filmmaker and media person.
Even though the three brothers had recorded and performed a number of Telangana Christian folk songs over the years, the Burrakatha performance was presented after a significant break, with the majority of the songs being recited from memory from performances more than 40 years ago.
First Published: &nbsp 28 Dec 2022 12:44 PM GMT