'Expelled' Jubilee Hills society members hit back, claim removal illegal
The "expelled" members of the JHCHBS questioned the decision of the general body of rusticating their memberships.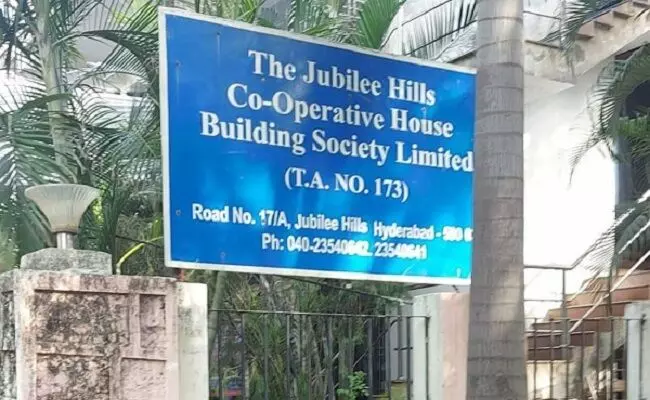 HYDERABAD: The "expelled" members of the Jubilee Hills Cooperative House Building Social Ltd (JHCHBS) questioned the decision of the general body of rusticating their memberships. They described it as illegal and in contravention of the laws governing the society.
Chaos is not new to the JHCHBS with multiple cases being filed on the members for illegally selling lands at very high rates. This time, the five members who were removed from the society and the Jubilee Hills Club, T. Narendra Chowdary, CV Rao, T. Hanumantha Rao, A.Murali Mukund and Kilari Rajeshwara Rao, have opposed this decision and sought a fair investigation into the matter.
Society Secretary A Murali Mukund released a press note on Monday stating that the housing society's decision was not according to the Telangana Co-operative Societies Act 1964. The note also read that the decision seemed to be personally motivated.
He said, "The proceedings conducted by the president of Jubilee hill cooperative housing society expelling the members unilaterally is illegal and invalid. Proper show cause notices are not given and opportunity not provided to any one. Inquiry 51 against both the past and present committees is going on and also cases pending in High court and Tribunal about several irregularities. When such cases are present , it is not proper to expel members with a dictatorial approach .The housing society is bound by cooperative act and club is bound by a separate society act . Hence ,the decisions of the housing society are not binding on the club. The decision to expel seems to be personally motivated and not abiding by the rules. Because I have exposed the irregularities committed by the present committee , they are taking vindictive action against me."
Officials were investigating the registrations and irregularities in the Society and looking into mistakes made by both the general meeting body as well as the expelled members. However, it was questioned as to how the five people were removed from the society's membership and the club's membership without a formal notice and who were the people who signed their removal.
They also said that the members were not allowed to speak during the general meeting. President of the Jubilee Hills International Centre P V Rao said that such removal of the members without abiding to the Telangana Society Act was invalid. It was also noted that officials of the society were also bribed on multiple occasions for illegal activities to not be investigated.
First Published: &nbsp 19 Sep 2022 7:24 AM GMT