GHMC to beautify 114 junctions across Hyderabad
The GHMC is gearing up to improve the road transport system across Hyderabad by widening the roads wherever necessary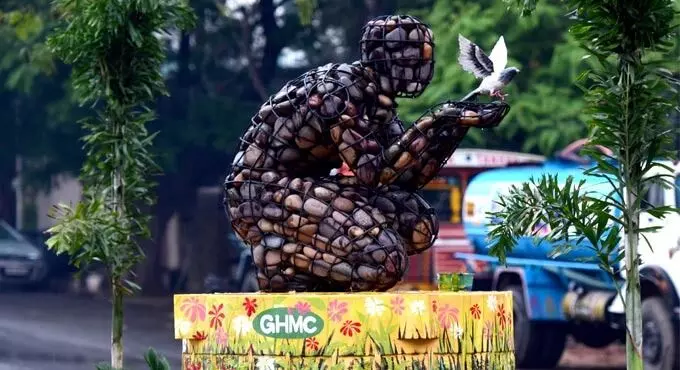 Greater Hyderabad Municipal Corporation (GHMC)
HYDERABAD: The Greater Hyderabad Municipal Corporation (GHMC) is gearing up to improve the road transport system across Hyderabad by widening the roads wherever necessary. The move is necessitated as the traffic is increasing everyday in the city due to rapid industrial development and spurt in the inflow of foreign tourists, thanks to Hyderabad's global reputation in tourism.
It is learned that the GHMC was making efforts to provide a better transport system and infrastructure to the people and plans are being prepared to develop necessary junctions for the hassle-free transport system. Against this backdrop, the municipal corporation has reportedly decided to develop 12 intersections in the city to improve the signal system for regulating traffic.
Also, the GHMC has proposed to develop 60 junctions with three and four lanes whichever is possible, including 10 junctions in LB Nagar zone, 10 junctions in Charminar zone, 11 in Khairatabad zone, nine in Serilingampally zone, nine in Kukatpally zone and 11 in Secunderabad zone respectively.
Meanwhile, the GHMC has already started the development of 12 junctions experimentally at a cost of Rs 33 crores for the convenience of pedestrians and it was decided to make gardening arrangements as well. The GHMC took steps to beautify six junctions in LB Nagar zone, three in Charminar zone, 24 in Khairatabad zone, six in Serilingampally zone, six in Kukatpally zone, and nine in Secunderabad zone.
The GHMC mayor Vijaya Lakshmi said that out of 350 junctions in the city, the municipal department had taken measures to improve major junctions and strengthen the transport system to make them look more beautiful. Mayor Vijaya Lakshmi and Deputy Mayor Srilata Shobhan Reddy said that the Municipal and Urban Development Minister KTR was working towards the development of Hyderabad as a cosmopolitan city.
First Published: &nbsp 3 Oct 2022 2:31 PM GMT