Hyderabad doctors help 105 YO woman with fractured hip walk again
The patient, Rani Devi, a native of Moosapet in Hyderabad, was brought to Amor Hospitals with a fractured hip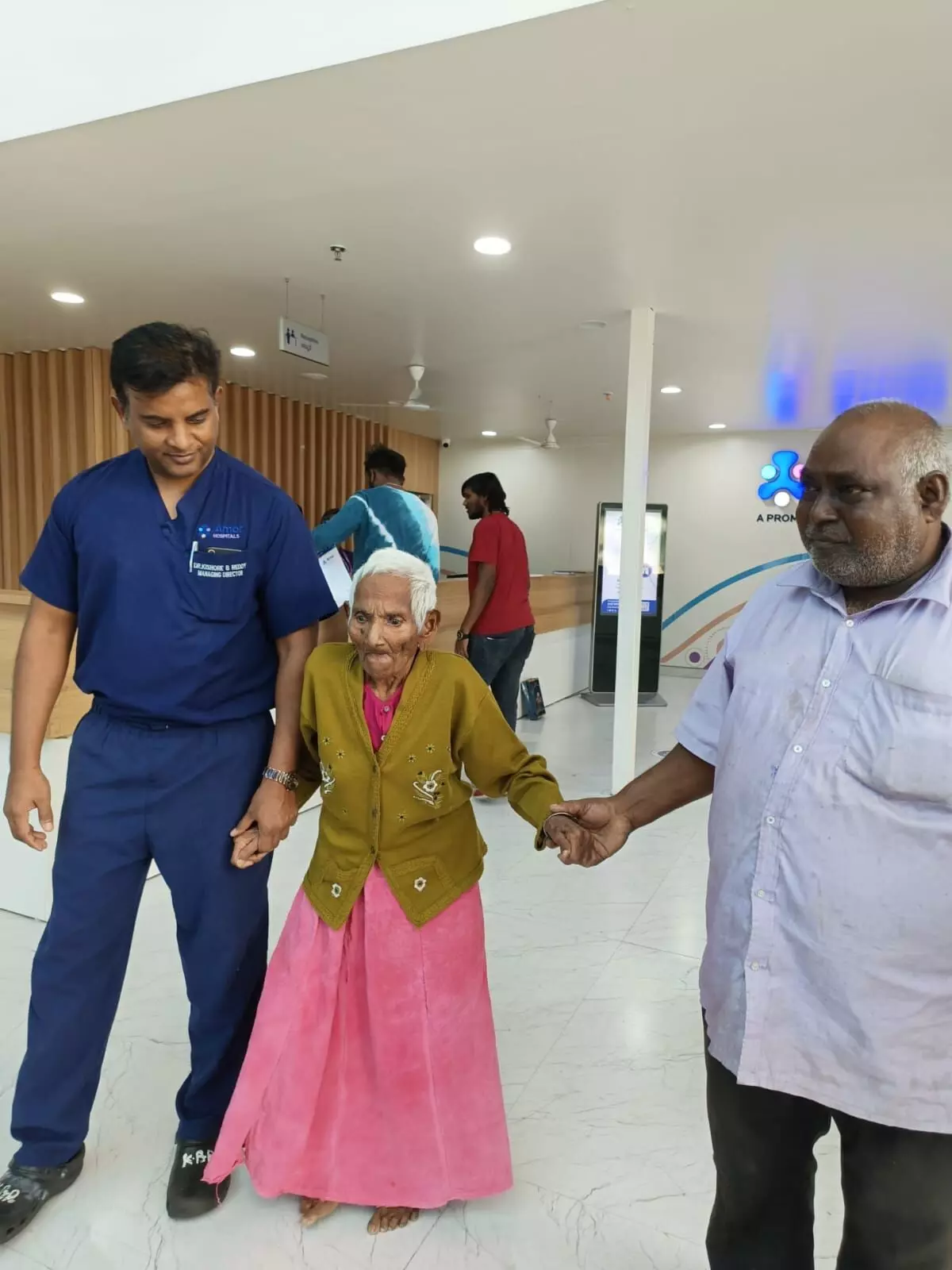 HYDERABAD: A 105-year-old woman who had fractured her hip/pelvis joint was successfully treated by doctors at Amor Hospitals, a multi-superspeciality healthcare facility in Hyderabad. Given the patient's late age, it is a remarkable feat that the treatment allowed the woman to once again stand and walk.
The patient, Rani Devi, a native of Moosapet in Hyderabad, was brought to Amor Hospitals with a fractured hip. Some medical professionals at other hospitals did not want to risk performing a surgery on the patient because of her advanced age. The team of specialists at Amor Hospitals, however, accepted the challenge and, after carefully discussing the process with the patient's family members, proceeded with the procedure.
"Aged patients who sustain pelvic fractures from falls or other causes sometimes go untreated owing to a lack of trust," said Dr. Kishore B. Reddy, the surgeon who supervised the treatment and is the HoD for orthopaedic and orthopaedic oncology at Amor Hospitals. This substantially worsens the extreme pain that people go through in their later years of life. "We wanted to make sure Mrs. Rani Devi could stand up again because we couldn't bear to see her suffer any longer.
"With the assistance of our critical care team, led by Dr. Sardar, and our anaesthesia team, led by Dr. Narsapuram Pavan Kumar, we successfully completed a difficult procedure to fix the damaged pelvis. Even though the treatment was only administered for a short time, we make sure the patient gradually returns to normalcy to ensure a successful recovery. Following careful monitoring of the patient's condition, we pushed her to stand up three days following the procedure when we noticed that she had fully recovered," Dr. Kishore B. Reddy stated.
"We are extremely happy with the results and we anticipate Mrs. Rani Devi will be able to handle her personal obligations without needing outside support."
The family of Rani Devi was overjoyed that she would no longer be subject to the whims of others and desired that this self-sufficient woman, who led an independent life, wouldn't be required to rely on others anymore. "Despite the fact that we are here to take care of her," Mrs. Rani Devi's son claims that if she had come to rely on us, she would have lost her self-respect.
First Published: &nbsp 30 Aug 2022 10:18 AM GMT