Ibrahimpatnam sterilisation operations: action on doctors, 13 suspended
The Telangana government has taken strict action against the doctors involved in the failed family planning operations
Telangana Health Minister T Harish Rao visited the women who were in the hospital after the failed mass sterilisation camp in Ibrahimpatnam
IBRAHIMPATNAM: The Telangana government has taken strict action against the doctors involved in the failed family planning operations incident that claimed four lives in the Ibrahimpatnam hospital on August 25.
Ranga Reddy DM&HO Dr Swarajya Lakshmi, District Hospitals Medical Services Coordinator Dr Jhansi Lakshmi were transferred. The Government also ordered for disciplinary action against the other doctors who were involved in the surgeries.
A criminal case was also registered against DPL Surgeon Dr Joel Sunil Kumar who reportedly performed the operations. Ibrahimpatnam hospital Superintendent Dr Sridhar was also suspended with immediate effect.
Apart from taking action against those who were involved in the incident, the Telangana Government Health Department also issued guidelines to all teaching hospitals, Vaidya Vidhana Parishad hospitals and primary health care centers to ensure that such incidents did not occur again.
A family planning operation (laparoscopy) was performed on 34 women on August 25. Four women succumbed to various complications after the family planning surgery took a wrong turn. Telangana Health Minister T Harish Rao had visited the hospital to visit the other 30 women who were also admitted due to such complications.
Disciplinary action was taken against doctors, nurses and supervisors involved in the incident. Deputy District Medical & Health Officer Dr Naga Jyothi, Head Nurse Community Health Centre Chandrakala, Deputy Civil Surgeon Dr. Geetha, Medical Officer PHC Madgual Dr Srinivas, Medical Officer PHC Dandumailaram Dr Poonam, Supervisor PHC Madgul Alivelu, Supervisor PHC Madgul Mangamma, Supervisor Manchal Jayalatha and Supervisor Dundimailaram Janakamma were all issued notices.
The following were the guidelines issued by the Telangana Health Department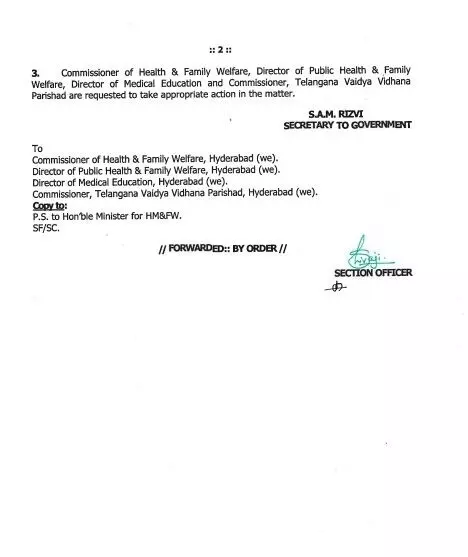 First Published: &nbsp 24 Sep 2022 5:55 AM GMT