KCR plotting to stall ST quota plan and blame BJP for it: Bandi Sanjay
BJP Telangana president Bandi Sanjay Kumar on Tuesday alleged that Telangana CM KCR was plotting to ensure that the 10 percent quota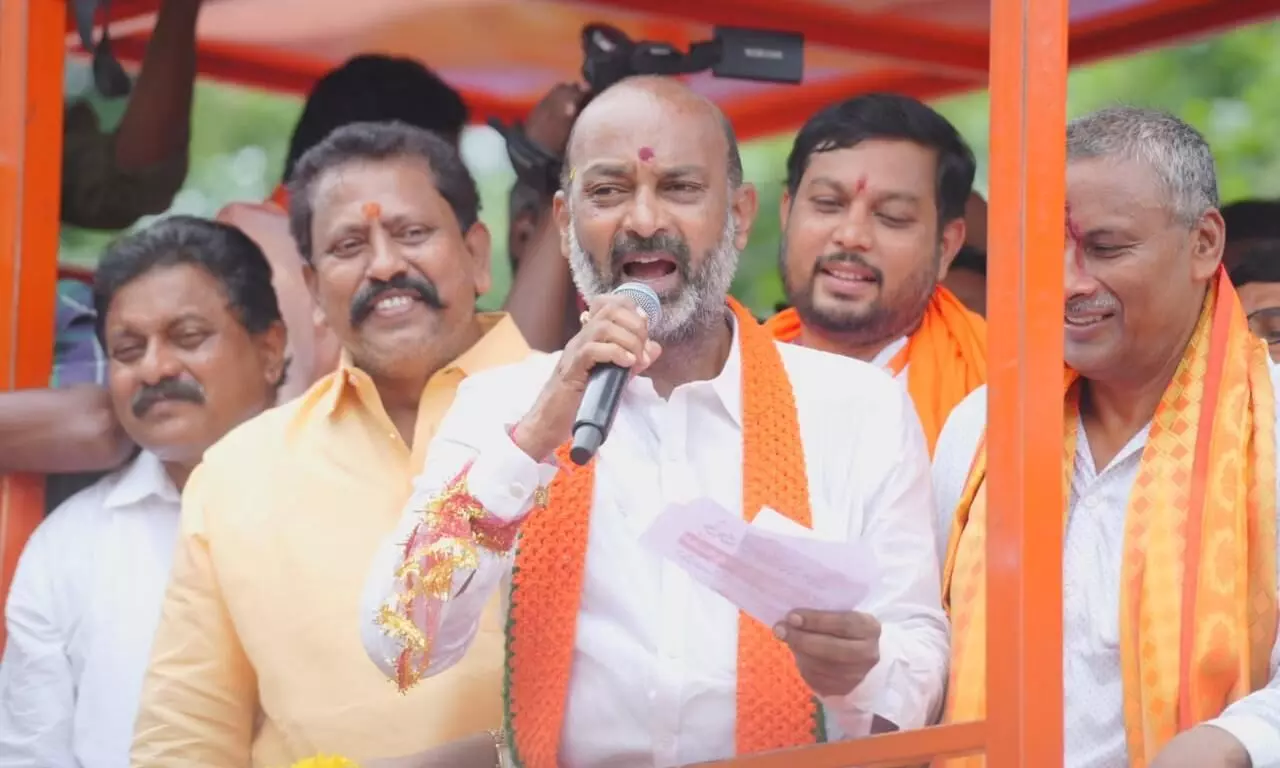 HYDERABAD: Bharatiya Janata Party (BJP) Telangana president Bandi Sanjay Kumar on Tuesday alleged that Telangana Chief Minister K Chandrashekar Rao (KCR) was plotting to ensure that the 10 percent quota he announced for the Scheduled Tribes was never implemented.
Sanjay, whose Praja Sangrama Yatra - 4 has entered the Uppal constituency, addressed a public gathering at the NTR Statue Crossroads in HB Colony on Tuesday. He alleged that KCR was hoping for a stay order from the Supreme Court on the ST reservations he had announced. In that event, the Chief Minister is looking to put the blame on him and the BJP to gain political mileage, he said.
"A misinformation campaign has already been started on the social media platforms claiming that I have been trying to stall the ST reservations. I ask KCR to join me in swearing before the God at the Vighneswara temple of Uppal constituency. Let's settle, who is actually lying and trying to scuttle the implementation of the ST reservations," Bandi Sanjay said.
Speaking about the civic amenities in Uppal constituency, the Telangana BJP chief said that the roads and drainage system here is in bad condition. "Even a moderate rain is resulting in waterlogging. The TRS leaders here had in the past vowed to adopt this constituency. Where are they hiding now? What happened to the promise of 2BHK housing for the poor? The Centre is providing free electricity to the five industrial estates located in this area. KCR on the other hand is destroying Uppal. The NDA government at the Centre is giving free rice and free vaccines during the COVID-19 pandemic. The credit surely goes to Prime Minister Narendra Modi for this," he claimed.
He also mocked KCR's decision to christen the new secretariat building after the Father of Indian Constitution Dr BR Ambedkar. "Naming the secretariat after Ambedkar is mere symbolic. KCR, as long as he will be in power, should ensure that a Dalit is made to sit in the Chief Minister's seat. The Chief Minister tried to defeat Droupadi Murmu, who is from the ST community, in the recent Presidential elections. People are no more trusting KCR," he commented.

First Published: &nbsp 20 Sep 2022 11:41 AM GMT