MMTS train stops with loud noise in Hyderabad
Passengers of an MMTS train had a lucky escape after the train stopped abruptly with a loud noise near Necklace Road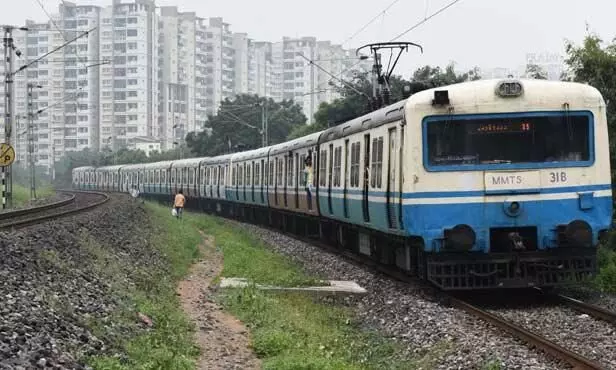 MMTS train
HYDERABAD: Passengers of an MMTS train had a lucky escape from what could have been a disaster after the train stopped abruptly with a loud noise near Necklace Road here on Friday morning. The incident happened when the MMTS train was travelling to Nampally from Lingampally. No casualties were reported from the incident.
The loud noise left the passengers panicking and even before they could realise what happened the train came to a screeching halt. Sensing danger, most of them quickly got out of the train and began walking along the track towards the next station. A technical glitch in the engine of the MMTS is said to have caused the loud noise and brought the train to a halt.
The train resumed its onward journey after quick repairs were carried out by the railways technicians. Though the exact type of the technical snag that brought the train to a stop was not immediately known, everyone heaved a sigh of relief seeing that it did not result in any major eventuality. Many of the passengers in the MMTS train were office-goers, looking to reach their destinations on time.
First Published: &nbsp 30 Sep 2022 7:10 AM GMT