Modi launches a veiled, yet trenchant, attack on KCR regime; hopes for 'sunrise'
Modi came up with a fiery show as soon as he arrived in Telangana on Saturday, threatening to fight against the TRS government in the state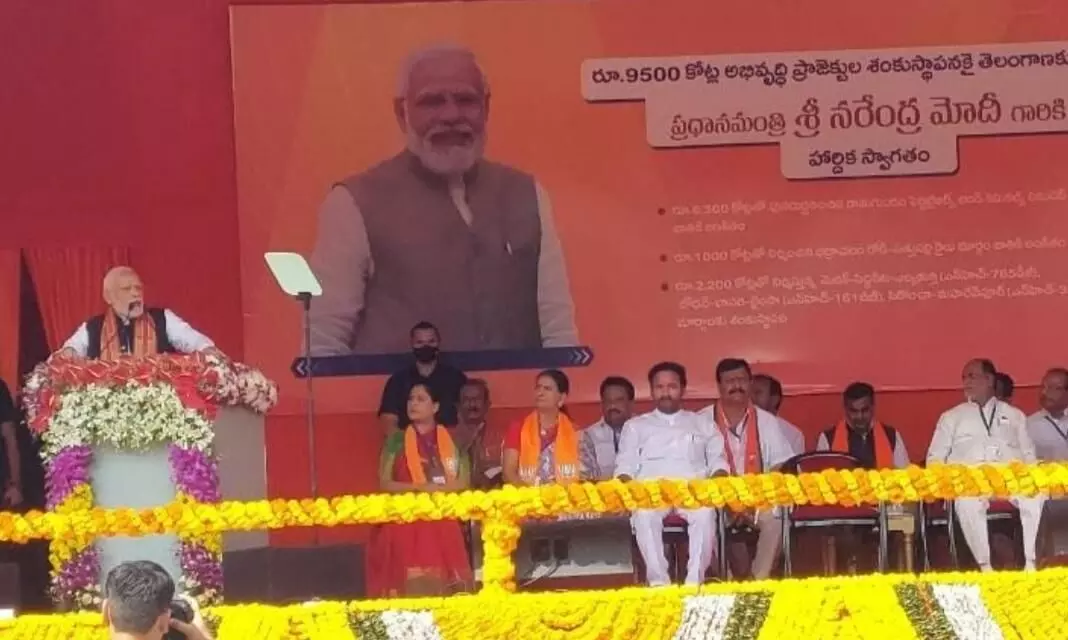 HYDERABAD: After a docile speech in Visakhapatnam, Prime Minister Narendra Modi came up with a fiery show as soon as he arrived in Telangana on Saturday, threatening to fight against the TRS government in the state.
Addressing a meeting organised by the Bharatiya Janata Party (BJP) at the Begumpet airport soon after his arrival, Narendra Modi unveiled his other facet, Modi the politician, while training his guns against TRS president and Chief Minister K Chandrashekar Rao (KCR), his dynasty rule and what he called corruption of the TRS government in Telangana. Intestingly, Modi refrained from directly naming KCR and the TRS and indulged in a veiled attack.
"The regime that loots the poor and thrives on corruption deserves to go. There will be a new dawn in Telangana. The BJP will continue its fight until the corrupt government, dynasty rule and the era of blind beliefs and superstitions is brought down in Telangana," the Prime Minister asserted, in a veiled attack on the TRS chief.
"The regime here and its leaders have continuously meted out injustice to the people of Telangana. Some people prospered at the cost of the common man and the poor. When there is darkness all around, there will be a new dawn and thus the lotus (kamal) will bloom. The day is not far off when the lotus (the BJP symbol) blooms all across Telangana," said Narendra Modi much to the joy of the BJP workers.
The Prime Minister also defended the BJP's performance in the Munugode Assembly by-election, saying that the votes received by the party, fighting against all odds, was a reflection of the Telangana electorate's desire to see a BJP government in the state.
Modi's unusually strong posturing on the Telangana soil, with finger-gesturing, is being seen as an attempt to lift the morale of the BJP cadre that seemed to have hit the rock-bottom especially after the recent expose of the poaching scandal targeting four TRS MLAs.
TRS chief and Chief Minister K Chandrashekar Rao (KCR) directly blamed the BJP and the RSS for plotting to destabilise his government by trying to engineer a split in his party. A SIT investigation is also going on to unravel the truth from the scandal.
First Published: &nbsp 12 Nov 2022 9:15 AM GMT