Mouthwatering Hyderabadi sweets- Find out foodies' favourite flavours
The journey of Hyderabadi Meethas has been far sweeter and deeper than any of us can imagine.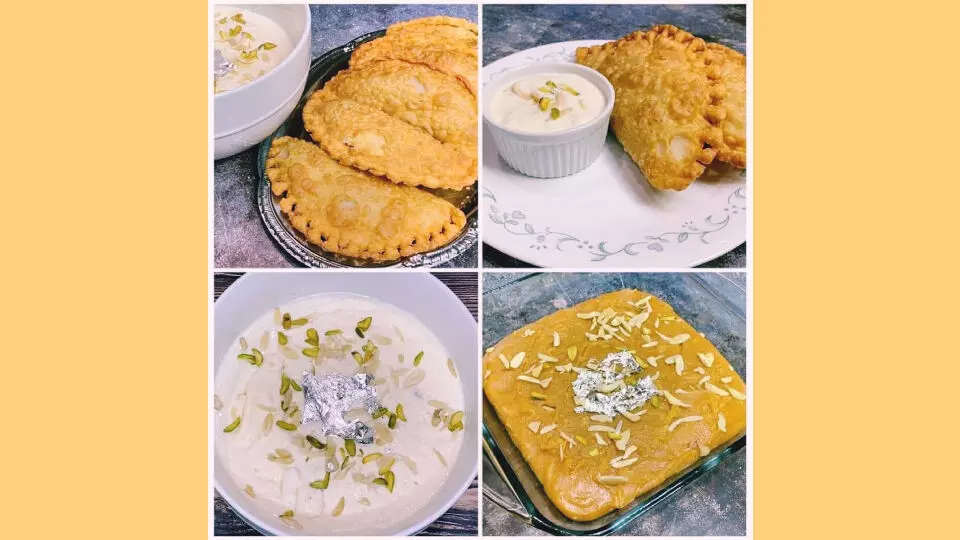 Credits/Mainaz Ul Haq

HYDERABAD: Given that biryani and Qubani Ka Meetha are considered synonymous to Hyderabad, many people still believe that the city is only known for its famed mutton biryani and haleem. Yet, very few of us are aware of how well-known and mouthwatering Hyderabadi desserts are in comparison to other cuisines.
The journey of Hyderabadi Meethas has been far sweeter and deeper than any of us can imagine. You probably won't believe, but Hyderabadis also have more than 10 other favourite sweets in addition to Qubani ka Meetha. Connoisseurs of Hyderabad history and culture assert that the city is home to hundreds of traditional desserts.
Kheer served in Kulhad/ Picture Credits: Asif Ali Khan
Hyderabadis have a long history of enjoying sweets like Double ka Meetha or dabal ka meetha (shahi tukda), Geelay e Firdaus, Andey ke Lauz, Badam ka Halwa, Kheer-Puri, Puran-Puri, Kaddu ka Halwa, Mauz ka Meetha, Jouzee Laoz/Halwa, Muzzafir, Nan Khatai, Phirni, Badam ki Jali, and Nishasta halwa.
Badam ki Jali/ Picture Credits/Nafees Hussaini
"There are hundreds of authentic Hyderabadi desserts, the recipes for which I have been working on for several years," says Mohammed Safiullah, a senior cultural historian from Hyderabad.
"Before the arrival of specialised caterers and exclusive Hyderabadi dessert outlets, all traditional desserts were once handmade at home. My late mother, who also taught the finer points of Hyderabadi cookery to my sister and my wife, has been cooking at home for three decades now.''
Asif Ali Khan, Nizam Seventh's great-grandson-in-law residing in Hyderabad, told Newstap.in: "First of all, let me say that I hail from the illustrious Babukan family of Hyderabad, which is very traditional and carries a culturally rich history. I also happen to be Nizam the Seventh's great-grandson-in-law. I get the privilege of tasting the tastiest delicacies that are prepared at home.
Sheer Khorma served at Asif Ali Khan's home during Ramadan
He said, "Chokhander ka Meetha, Kaddu ki Kheer, Badam ka Kund, Meetha Chawal with Malai, Ande ke Lauz, Badam ki Jaali, Hab ke Lauz, Khopre ki meethai, Pooran ki roti, Shakraana, and Pakki are a few of the unusual sweets and deserts I have enjoyed over time and still do. It's tough to choose a favourite among them all, but my favourite dessert is Kaddu ki Kheer, and my favourite sweet is Hab ke Lauz. "
Kaddu Ka Meetha/Asif Ali Khan

Let's dive into some of the decadent desserts the city has to offer.

Bread pudding
Hyderabad is known for its love of double ka meetha. Because it was the cheapest treat to make, whether it was someone's birthday or death anniversary, my father used to call it "Sarkari Meetha" with fondness. Since Double Ka Meetha was prepared for every Sarkari function, it was also colloquially referred to as Sarkari Meetha by many. Hyderabadi Double ka meetha differs somewhat from its Shahi Tukda-style counterpart from North India. Both are different sweets, yet similar, says Dr Haseeb Jafferi, Cultural Curator, Sufi Trails.

Double ka Meetha/Sufi Trails
Meetha Azam Jahi
Azam Jahi meetha, which also has a bread base, is a highly important component of these sweets due to two historical effects on Hyderabad. One is that when the Persians arrived, they brought with them the techniques for baking bread and for baking flaky bread as well, like you see in curry puffs. We have quite extensive baking traditions because of this. Therefore, baking techniques were used by the Qutub Shahi, the Nizam, and the British. The fact that Double ka Meetha is such an inexpensive treat to create is due to our bread-making expertise. Azam Jahi meetha was another 19th-century sweet. It is little more than three layers of stacked rice pudding that bear the name Azam Jahi, the son of the former Nizam.
Desserts Made with Eggs
Another well-known Hyderabadi treat is an egg-based dessert. Naturally, since eggs are synonymous with deliciousness, Andey-ka-Halwa and Andey-key-Lauz are two must-try egg-based desserts. Andey-Ka-Posey Andey-ka-Halwa is a simple dessert made with dry fruits, milk, and eggs with a dash of saffron. This sweet is typically consumed for breakfast in smaller gatherings. However, Andey-ka-Posey, a baked egg halwa, is a better variant of it. It is also known by the more common name Andey-key-lauz by others. Andey-key-lauz are quite well-liked in Hyderabad. When a female is displayed and during an alliance, these types of lighter sweet meals were served when the groom would pay a visit. This dessert is shaped like a diamond. However, Andey-ka-Posey, a baked egg halwa, is a better variation of it. It is also known by the more common name Andey-key-lauz by others. Andey-key-lauz are quite well-liked in Hyderabad. When a bride is is shown at prospective alliance, these types of lighter sweet meals are served to the visiting groom's family. It is a delicious dish in the shape of a diamond, and since so few people nowadays are able to prepare it, the recipe has somewhat gone extinct. The culinary preferences vary from family to family, and each Hyderabadi family has its own cooking styles, But overall, they are all very similar today. However, when using foreign ingredients and essences, the taste changes.
Andey-key-lauz/Pic Credits/Kunal Kapur
Jouzee Halwa
Jouzee halwa is a very popular dessert in Hyderabad, especially from Hameedi confectioneries. They were the official sweet makers of the Nizam, and the Nizam had actually given him a certificate. It is right in front of Moazzam Jahi market, and they have another outlet in Abids. This particular sweet shop had an array of different sweets, but the most popular sweet is called Jouzee Halwa. So nutmeg is bitter, but somehow these people have devised a method and made a very tasty sweet from it. In fact, the health benefits of this halwa are very high, mainly during winters as it warms up the body. The essence of this sweet is very hot and good for winter. Jouzee halwa is usually made less at home and people tend to buy it from this shop.
Picture Credits/Yasir nawab, Hameedi Confectionery
Kheers
Hyderabad offers a variety of kheers. In fact, there are 10 different kinds that may be made, but the two most well-known are Chawal and Kaddu ki Kheers. Both of these kheers, which are two distinct varieties that are frequently prepared in the summer and work as body coolants due to the presence of saboodana and rice, are cooked using rice. So, as you can see, kheers are popular in the summer and halwas are popular in the winter.
Hyderabad's sweets are generally based on the season. Hakeems will advise you on which kheer to eat at what time of year. The sweets you eat throughout the summer are lighter than those you eat during the winter, whereas the desserts you eat during the monsoon are egg-based.
Kaddu ki Kheer/ Picture Credits: Shaziyas Recipies
Badam-Ki-Jali
Badam ki Jali is a delicacy that is made fairly frequently in some Hyderabadi households, especially during weddings. We exchange sweets at weddings says says Dr Haseeb Jafferi, Cultural Curator, Sufi Trails. Due to extremely hot climate, not all Hyderabadi sweets are liquidy or similar to Bengali sweets. The purpose of these treats is to remain fresh and have a long shelf life when given as wedding gifts, which is why Badam ki Jali is a significant treat. It's simply an extremely high-grade badam katli that fits into the palm of your hand, but it's much drier and has a longer shelf life. Badam ki Jali is created in really lovely patterns with rose-like forms. Typically, almond flour and sugar are used to make badam ki jali.
Picture Credits/Nafees Hussaini
Nishashta Halwa
Nishashta halwa is a very uncommon halwa that is not frequently found in homes. In fact, the recipe has been lost because so few people may be aware of it. Nishashta is primarily made of wheat because it is a very delicate dish and not an easy thing to prepare. Wheat is essentially soaked in water for three days, with daily change of water, to produce a wheat extract. The dry pulp that is obtained from the wheat is used to make the sugar. This is said to offer back great strength and has several medicinal benefits. The universal secret of preparing a sweet is that the more time you spend on it, the better the results will be.
Picture Credits/ Nida's Cuisine
Puran-Puri
Since the ancient Hyderabad state was founded in the Marathawada region, Marathi food has also had a significant influence on it. Puran Poli, a popular sweet in the Maratha region, is very popular here too. It's also unique to Hyderabad, but both Puran Poli and Puran Puri are made. The halwa is therefore made from chana.
Puran Puri and Choba puri/ Sufi Trails
First Published: &nbsp 2 Oct 2022 12:30 AM GMT