Nizampet residents marooned, as rainwater enters apartment complex
They have been stuck inside and outside their flat since last afternoon at 4 p.m.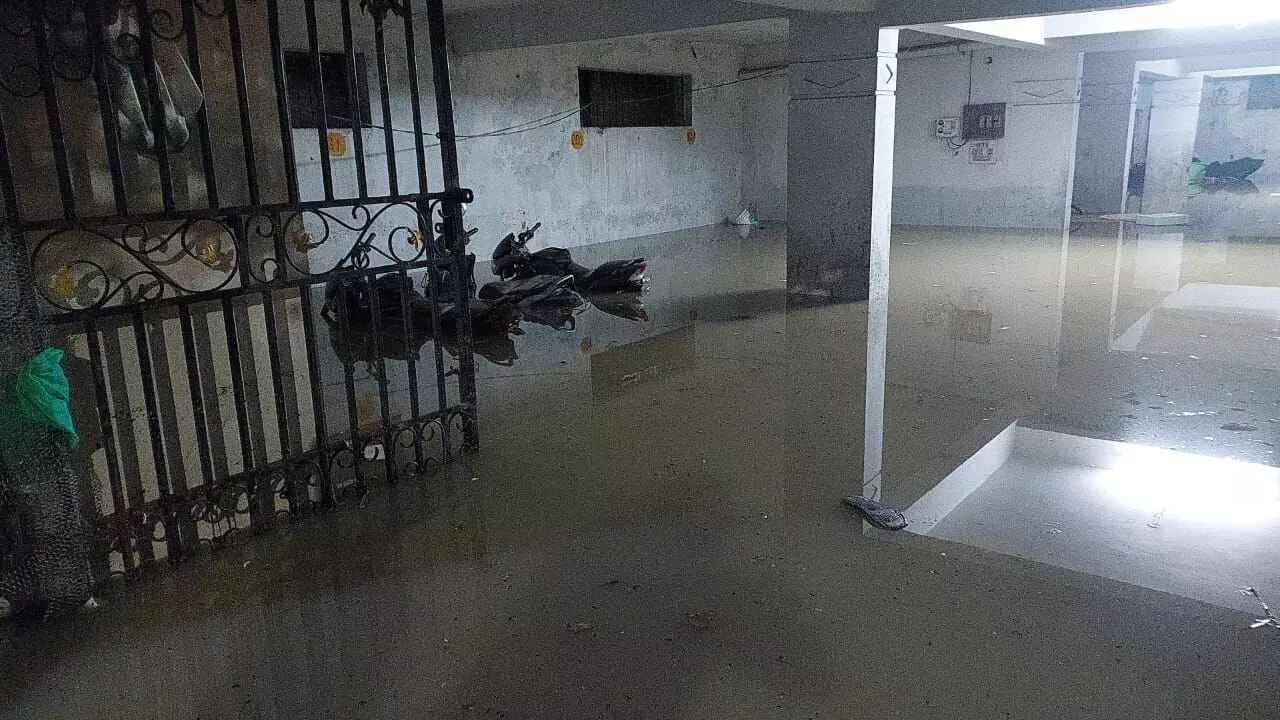 HYDERABAD: Heavy rains in Hyderabad on Tuesday evening disrupted normal life, leading to indudated colonies and apartments in many parts of the city. A few apartments with 50 people have been submerged to a height of 4 feet, trapping them both inside and outside their apartments in Kolan Narayana Reddy Colony in Nizampet.
They have been stuck inside and outside their flat since last afternoon at 4 p.m., according to the Resident Association of the Jyothi Residency apartments in Nizampet, following a significant downpour on Tuesday night.
Despite several complaints from residents, the resident association claimed that no one from the municipal corporation had reached out to assist them. The helpless citizens have hired a motor in their personal capacity to clear the water so that the residents can return to their homes as soon as possible.
Moulali Shaik, 63, President of the Resident Association of Jyoti Apartments in Nizampet, told NewsTAP, "There are three apartments near KNR colony park, and all of them have been flooded as a result of the heavy rain this evening. However, our apartment is the most severely affected.
Residents who were outside during the rain are still stranded in front of our flat, while those inside are still confined there.
He went on to say, "Despite the fact that this issue has persisted for years, the local officials have done nothing to address it. Even today, when we tried to ask them for assistance, they did not respond. We hired a motor on our own because we couldn't do anything else. We are currently attempting to drain the water, but it appears that it will take another 8 to 9 hours. The watchman's family and almost ten other residents are trapped outside the flat and can only enter the apartment once the water has been drained from the cellar. Rainwater also ruined our phones and other electronic devices. Our bikes and cars, as well as our watchman's room and belongings, have been completely submerged in water'.
According to Srinivasa Reddy, President of the Kolan Narayana Reddy Colony Association, "Our colony's residents have been suffering for the past 5 hours as their apartments have been filled with rain water. The officer in charge told us that he was helpless and turned off his phone without assisting us. Residents can return home as soon as the municipal authorities get their equipment, which has a greater capacity to clear water than the one we have. We continue to wait in the hopes that the municipality will provide assistance so that we can enter our homes.
First Published: &nbsp 27 Sep 2022 3:52 PM GMT