Traffic diversion for Saddula Bathukamma around Tank Bund, LB Stadium
Congestion is expected around L.B. Stadium and the Upper Tank bund from 3pm to 9pm.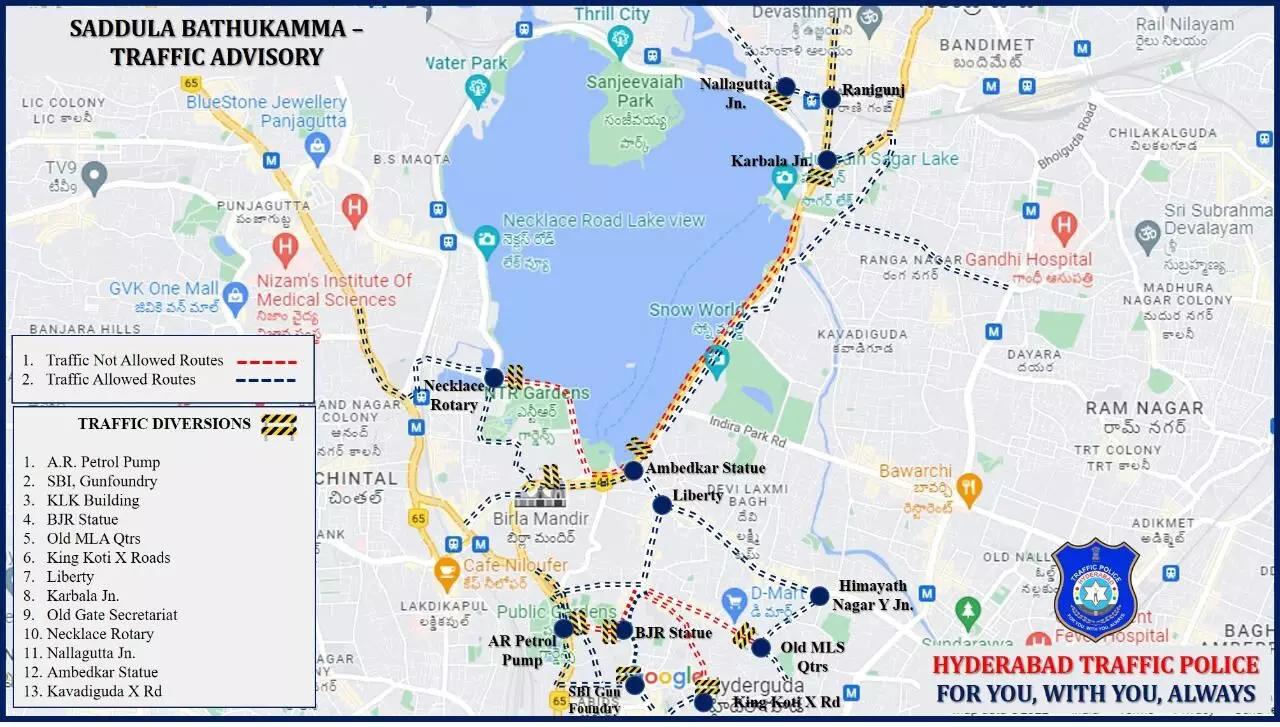 Traffic restrictions
HYDERABAD: The traffic police in Hyderabad have issued traffic restrictions in connection with Saddula Bathukamma, which will be celebrated on Monday at L.B. Stadium, Liberty Junction, and the Upper Tank Bund. Congestion is expected around L.B. Stadium and the Upper Tank bund from 3pm to 9pm.
According to the traffic police, traffic diversions and restrictions will be implemented in accordance with local conditions as necessary.
Traffic will be either stopped or diverted at the following locations during the programme:
Traffic originating on Chapel Road in Nampally and intending to proceed to the B.J.R. Statue will be diverted at the A.R Petrol Pump towards the P.C.R.
Traffic from the SBI Gunfoundry side intending to proceed to the Press Club/Basheerbagh Flyover will be diverted to Chapel Road at the SBI Gunfoundry.
Traffic heading towards the B.J.R. Statue from Ravindra Bharathi and Hill Fort Road will be diverted to Sujatha High School at K.L.K. Building, Fateh Maidan.
Traffic approaching from the Basheerbagh Flyover side will not be permitted to turn right at the B.J.R. Statue, but will instead proceed up to the S.B.I. Gunfoundry and turn right toward Chapel Road.
Traffic from the Old MLA Quarters to Basheerbagh will be diverted at the Old MLA Quarters to the Himayat Nagar Y Junction.
Traffic heading to Basheerbagh from King Koti and Boggulakunta via Bharatiya Vidya Bhavan will be diverted at King Koti X Roads towards Tajmahal or Eden Garden.
Traffic from Himayth Nagar Y Junction to Upper Tank Bunk via Liberty will be prohibited and diverted to the Basheerbagh flyover at Liberty. General traffic on Tankbund from the Telugu Tally side and the Karbala Maidan side will be prohibited between 3pm and pm on Monday.
Traffic heading from Secunderabad to the Upper Tank Bund will be detoured at Karbala Maidan to the Bible House-Jabbar complex-Kawadiguda Lower Tank Bund-Kattamaisamma and Telugu Tally flyover.
Traffic heading from Iqbal Minar to Upper Tank Bund will be detoured at the Old Gate Secretariat onto the Telugu tally flyoverKattamaisamma-Indira park-Gandhi Nagar-RTC X Road.
Traffic heading towards Khairtabad flyover from Panjagutta and Rajbavan Road will be diverted at Indira Gandhi Statue (Necklace Rotary) towards Prasads Imax and Mint Lane.
Traffic will be diverted at Nallagutta X Roads towards Ranigunj and Necklace Road from the Nallagutta junction towards Budha Bhavan.
Traffic heading from Himayathnagar and Basheerbagh to the Upper Tank Bund will be diverted at Ambedker Statue to the Telugu Tally junction-NTR Marg, Iqbal Minar U turn on to the Telugu Tally Flyover.
Traffic heading from Musheerbad and Kavadiguda to the Upper Tank Bund will be detoured at Kavadiguda X Road to the Lower Tankbund-Kattamaisamma.
RTC BUSES DIVERSION:
All inter-district RTC buses coming from Secunderabad towards MGBS will be diverted at Sweekar-Upakar Junction towards YWCA-Sangeeth-Mettuguda-Tarnaka-Nallakunta-Fever Hospital X Roads-Barkathpura-Tourist Hotel-Nimboli Adda-Chaderghat-Rangmahal and MGBS from 3pm to 9pm.
City buses will be rerouted at Karbala Maidan from 3 p.m. to 9 p.m. towards the Telugu Tally overpass and Bible House-Jabbar Complex-Kawadiguda X Roads-Lower Tankbund.
OUTER CORE /PERIPHERAL CONGESTION AREAS TO BE AVOIDED:
Residents are urged to stay away from the following junctions where there is likely to be heavy traffic: Basheerbagh, PCR Junction, Ravindra Bharati, Liberty, Tank Bund, Khairatabad, Telugu Thalli Junction/Secretariat Junction, Moazzam Jahi Market, Nampally, Abids, Narayanguda, Himayat Nagar, the area around LB Stadium, Kavadiguda X Roads Kattamaisamma, Karbala Maidan, Bible House, Ranigunj and Nallagutta.
CORE TRAFFIC CONGESTION AREAS ARE MUST BE AVOIDED:
Jagjeevan Ram Statue/ Nizam College.
Basheerbagh Junction.
Police Control Room.
RBI, Lakdikapool / Dwaraka Hotel,
Ambedkar Statue.
Telugutalli Juction.
PARKING ARRANGEMENTS:
VIP and officer parking is available at the Tennis Ground, L.B. Stadium. Vehicles from the electronic and print media will be parked near the SCERT office near BJR Circle.After dropping off invitees at L.B. Stadium, all buses carrying invitees will proceed to Necklace Road behind Budda Bhavan. Nizam College Ground has reserved parking.
CITIZENS TO NOTE:
The programme is scheduled on a working day, Monday, which is also the start of the week, and traffic congestion is likely between 3pm and 9pm.
The Hyderabad Traffic Police have asked everyone to be aware of the above diversions and traffic congestion points and to take alternate routes to their destinations. The Traffic diversions/ closures of roads will be removed / opened after the conclusion of the programme and the information will be updated on their our social media platforms. Citizens are urged to co-operate with the Hyderabad Traffic Police.
https://twitter.com/HYDTP, https://www.htp.gov.in/ https://www.facebook.com/HYDTP
First Published: &nbsp 2 Oct 2022 7:47 AM GMT