T-Hub-incubated Skyroot's private rocket launch successful
Kudos to cofounders of 'Skyroot', a T-Hub-incubated SpaceTech company from Hyderabad for the successful launch of India's first private rocket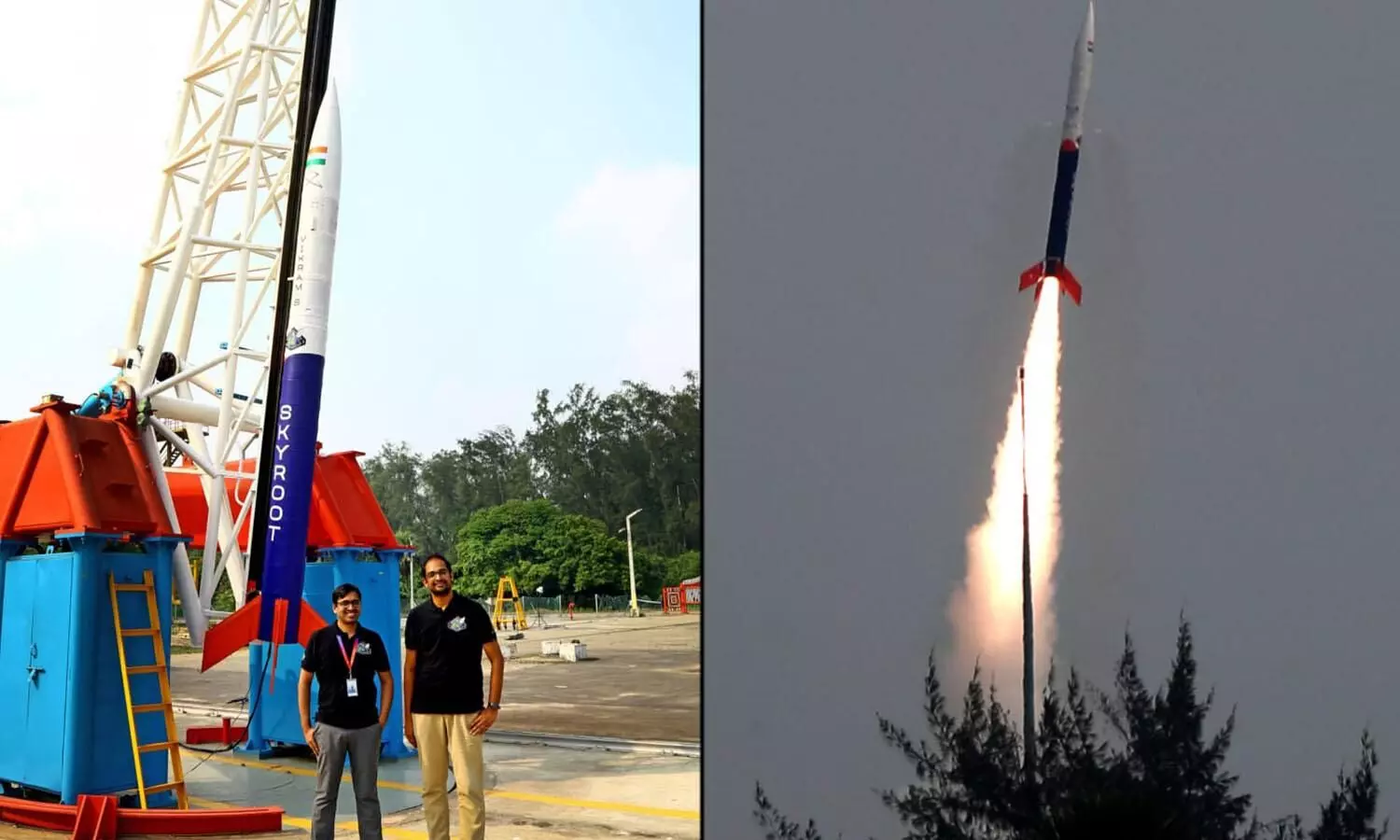 HYDERABAD: Kudos to Pawan Chandana and Naga Bharat Daka, cofounders of 'Skyroot', a T-Hub-incubated SpaceTech company from Hyderabad for the successful launch of India's first private rocket.
"We have scripted history by launching India's first privately developed rocket. This is the beginning of a new era in India's space ecosystem. Team Skyroot dedicates this launch to Vikram Sarabhai, the root of the Indian space research ecosystem. This launch also symbolises the potential that Indian startups hold. This is a small step for us and a big leap for Indian startups," said Pawan Kumar Chandana, the founder of Hyderabad-based Skyroot on November 18.
The Indian Space Research Organisation (ISRO) successfully launched Skyroot's rocket 'Vikram-S' at 11:30 am from Satish Dhawan Space Centre in Sriharikota. Skyroot was incubated in T-Hub, India's largest startup incubator located in Telangana. The rocket went up 89.5 kilometres, performing better than what the scientists expected.

The rocket weighed 545 kg, was six-metre long and carried three satellites from Space Kidz India, Bazoomq Armenia and N-Space Tech India.
The launch of the rocket carrying three satellites was approved, according to the Indian National Space Promotion and Authorisation Centre (IN- SPACE), Department of Space (DOS), on November 17.

The Vikram-S rocket was a component of Skyroot's Vikram series launch vehicles, which were named in honour of Dr. Vikram Sarabhai, who founded the nation's space programme.

Skyroot had been working on three different Vikram rocket versions. The Vikram-I can launch with 480 kilos of payload, whereas the Vikram-ll is designed to do so with 595 kilos. Vikram-III, on the other hand, had a launch capability of 815-kg to 500-km Low Inclination Orbit.
First Published: &nbsp 18 Nov 2022 7:36 AM GMT