Water drained from dump yard flooding Dammaiguda; Residents on warpath
Hundreds of Dammaiguda residents have been protesting at Dammaiguda chowrasta for the past two days complaining
HYDERABAD: Hundreds of Dammaiguda residents have been protesting at Dammaiguda chowrasta for the past two days complaining that drainage water from the Jawahar Nagar dump yard was overflowing into their colonies. The protesters claimed that contaminated water from the dump yard was drained out and that it flooded into their neighbourhoods during the recent rains.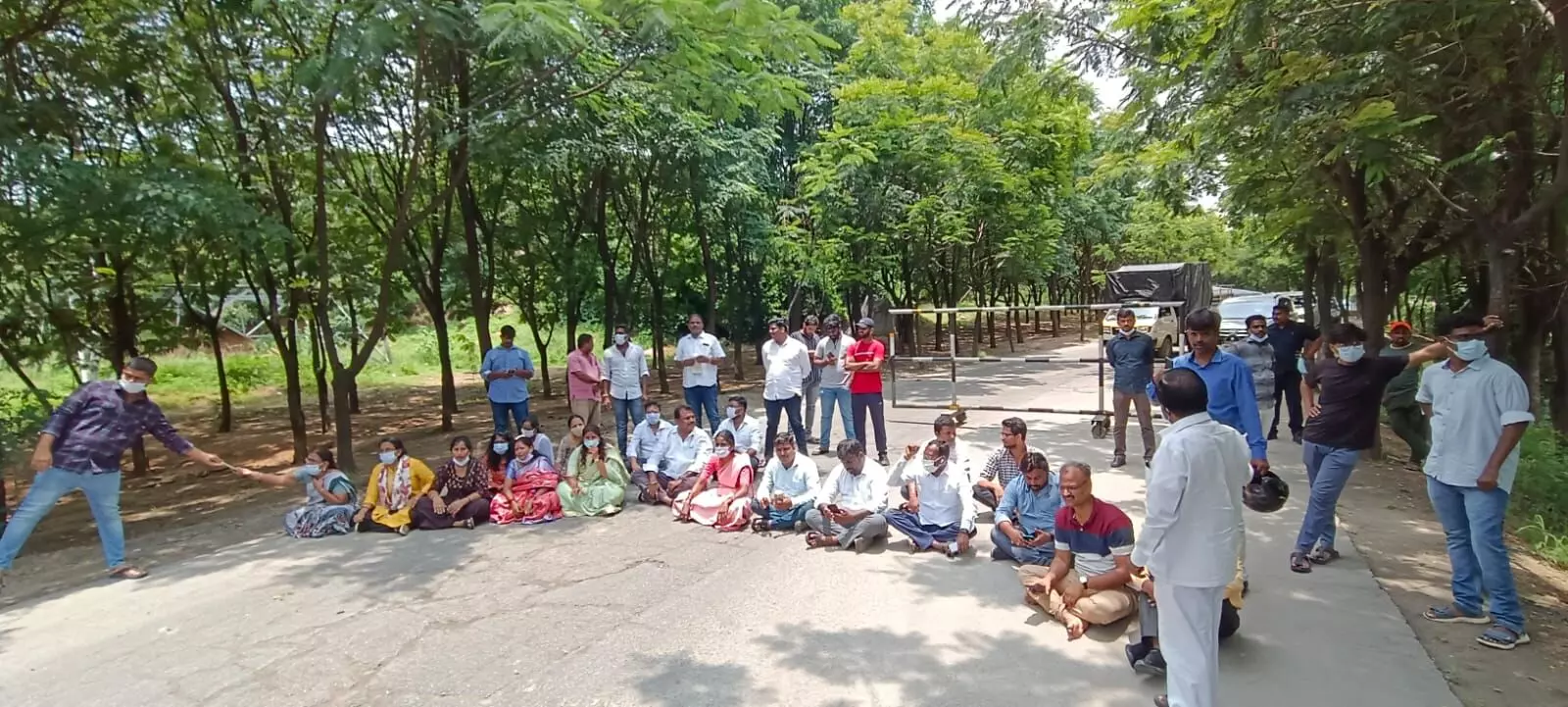 Many residents of the Narsaiah colony, VNS Homes, Anjanadri Colony, LSR Colony and Satyanarayana colony are finding it difficult to step out of their houses because of the flooded streets. Residents are forced to wade through the pool of water to cross the streets or even to come out of their houses.

Residents claimed that despite spending all of their earnings to buy a house, they had no peace of mind or safety because of the flooding of the streets. A video shared by a resident shows how a couple was having difficulty venturing out of their house due to heavy waterlogging on the street.
The couple, in the video, went on to say that they were in a terrible situation despite working hard to buy their own house. While showing the flooded streets, they stated that they were going to Dammaiguda Chowrasta to join the protest but were having difficulty even getting out of their residence due to the flooded streets. Despite the state of affairs, they claim that no officials had come to solve their problems. Their children went to school but they have no idea how they will get home through the flooded streets, the couple lamented.

In one of the videos shared by Dammaiguda residents, schoolchildren almost fell into the floodwater on their way back home from school. Parents were seen struggling hard to get their kids across the flooded water and to the safety of their homes.
Frustrated by the predicament they are in, residents of Dammaiguda have physically stopped garbage trucks from dumping garbage into the Jawahar Nagar dumping yard as part of their protest on Tuesday.

Praveen Ghatoji, 33, a resident of Dammaiguda's Narsaiah colony, told Newstap, "Dammaiguda is home to thousands of families and it was perfect 15 years ago, with plenty of greenery and two beautiful lakes. But unfortunately, this area has become a terrible place to stay due to the lack of fresh air or fresh water because the two lakes have become completely polluted. The dump yard has also completely polluted the ground water.
"We demand that the waste water flow into Dammaiguda lakes be stopped immediately and that the dump be completely removed. The municipal authorities should construct a proper pipeline for the flow of water from the lakes," Praveen insisted.
Another 45-year-old Dammaiguda resident Veerabhadra Rao C told Newstap, "Deeply annoyed by the inundated streets and houses, my wife and I decided to start the protest so that others will be inspired to join it. Hundreds of residents joined the protest, demanding on behalf of us, that our area needed to be saved from the flooding of contaminated water, some that happens every time it rains.

"Ramky Enviro Engineers Limited (REEL) allegedly drained the polluted water into our communities. So far, no one from Ramky has responded. We approached municipal authorities several times but they say they are powerless. Our protests will resume if the water flow is not stopped within the promised 10 days. In order to decide on the next course of action, we will wait until August 13", he said.
First Published: &nbsp 2 Aug 2022 1:55 PM GMT